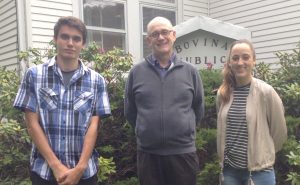 Matt Aikens, the Jean Marie Collin Memorial Scholarship recipient; Ray LaFever, Vice-President, Board of Trustees; and Karlye Heavey, Hugh Lee Memorial Scholarship recipient share their congratulations Wednesday, May 31.
The Bovina Public Library is pleased to announce congratulations to two outstanding Delaware Academy 2017 Graduates:  Matthew Aikens, recipient of the Jean Marie Collin Memorial Scholarship and Karlye Heavey, recipient of the Hugh Lee Memorial Scholarship.
The Jean Marie Collin Memorial Scholarship is an annual thousand dollar award for up to four consecutive years of college or professional training. The scholarship goes to a Bovina graduate who demonstrates character and community appreciation through his or her activities and academic achievements.
Jean Collin was a self-starter who began her formal education at age 22 while working full-time as a secretary for Pfizer Co. Jean's career advanced in concert with the degrees she earned. Her eleven year educational journey culminated in an MBA in Strategic Management. As Risk Manager for Pfizer in 2001, Jean was giving a presentation at the World Trade Center on the morning of September 11. Tragically she perished in the disaster.
Though her life was taken suddenly, her accomplishments and energy live on. The Jean Marie Collin Memorial Scholarship was established to honor her spirit and dedication by supporting like-minded students at several local schools.
This year Matthew Aikens was chosen to receive the Jean Marie Collin Memorial Scholarship. Matt will enroll in a Bachelor's program in computer science at SUNY Polytechnic Institute this fall in Utica. While working towards his degree he will continue to pursue his creative writing. As many college freshmen he is looking forward to discovering new ideas and learning opportunities that await him.
Karlye Heavey, the Hugh Lee Memorial Scholarship recipient, will begin this fall at Cornell University. She too is anticipating exploring new knowledge and different perspectives. Majoring in communications with a dual minor in journalism and English, Karlye will be well positioned to incorporate her learning into insightful writing.
The Hugh Lee Memorial Scholarship is a one-time award of a thousand dollars to a Bovina graduate.
Hugh Lee, who passed away in the spring of 2014, was an artist, educator, parent and community leader. He dedicated his life to many Bovina organizations and played an integral role in the growth and development of the Bovina Public Library. He served on the Library Board for many years becoming the first and only trustee emeritus.
Both scholarships are established independently from the Bovina Public Library. The director of the Library facilitates the administration and the Library Board of Trustees and outside persons have the honor of awarding the scholarships.